All-New iPhone/iPod touch Game Now Available Via App Store
LOS ANGELES (May 13, 2009)
— Square Enix, Inc., the publisher of Square Enix® interactive entertainment products in North America, announced today that their latest iPhone/iPod touch game, CRYSTAL DEFENDERS™ VANGUARD STORM™, is now available for download in 77 countries worldwide via App Store®.
The second original title in the CRYSTAL DEFENDERS series, VANGUARD STORM marks the return of exciting handheld "defensive simulation" to the iPhone/iPod touch. To protect their armies' crystals from the ever-advancing monster hordes, players must master the simple, yet innovative new control system made possible by the iPhone/iPod touch's hands-on interface.
About CRYSTAL DEFENDERS VANGUARD STORM
In ancient times, mysterious artifacts referred to as Remnants were discovered all over the world. Offering incredible power, they soon came into the hands of the covetous few, and thus was the world's delicate equilibrium shattered. The people were divided into those who ruled and those who were ruled over. War was inevitable. Our story begins a thousand years later...
Platform
iPhone/iPod touch
Genre
Defensive Simulation
Release Date
May 13, 2009
Price

iPhone/iPod touch  $4.99 (available worldwide via App Store)
*The free trial version, CRYSTAL DEFENDERS VANGUARD STORM Lite, is also available for download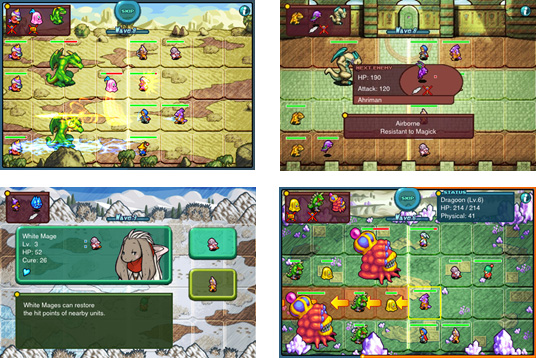 Copyright ©2009 SQUARE ENIX CO., LTD. All Rights Reserved.
In VANGUARD STORM, players must scramble to strategically position units into various formations in order to prevent encroaching monster hordes from breaking through the front lines and stealing the army's crystals. This high-paced defensive simulation (tower defense) game employs a real-time turn system in which reading the battlefield and determining optimal locations for each allied unit before the turn counter is spent are crucial for victory.
As with CRYSTAL DEFENDERS, VANGUARD STORM also features jobs from the popular FINAL FANTASY TACTICS® A2: Grimoire of the Rift®. Whether engaging in a concentrated attack or a gradual, widespread assault, players must constantly adjust battle formations in order to best take advantage of their units' individual abilities. In addition to jobs geared towards offensive maneuvers, there are also jobs which support or enhance other units. White Mages can restore an injured ally's HP, while Bishops can increase a nearby unit's attack power.
Finally, the monsters of VANGUARD STORM come in all different shapes and sizes. Some tread upon the ground, while others attack from the skies. Some even have resistances to certain types of attacks. To ensure victory, players must recognize these traits and then adjust battle formations accordingly, such as by pitting melee-oriented jobs such as Soldiers against monsters that resist magick, or Archers against aerial enemies.
The official website can be found at
http://www.cd-vanguardstorm.com
.
About Square Enix Co., Ltd. and Square Enix, Inc.
Square Enix Co., Ltd. (Square Enix), a wholly-owned subsidiary of Square Enix Holdings Co., Ltd., with headquarters in Tokyo, Japan, develops, publishes and distributes entertainment content including interactive entertainment software and publications in Asia, North America and Europe. Square Enix brings two of Japan's best-selling franchises — FINAL FANTASY®, which has sold over 85 million units worldwide, and DRAGON QUEST®, which has sold over 46 million units worldwide — under one roof. Square Enix is one of the most influential providers of digital entertainment content in the world and continues to push the boundaries of creativity and innovation.
Square Enix, Inc. is a wholly-owned subsidiary of Square Enix Holdings Co., Ltd. with offices in Los Angeles, California. It handles operations in North America, including development, localization, marketing and publishing of Square Enix titles. More information on Square Enix can be found on the Internet at
http://www.square-enix.com
.
DRAGON QUEST, FINAL FANTASY, FINAL FANTASY TACTICS, SQUARE ENIX and the SQUARE ENIX logo are trademarks or registered trademarks of Square Enix Holdings Co., Ltd. in the United States and/or other countries. CRYSTAL DEFENDERS, GRIMOIRE OF THE RIFT and VANGUARD STORM are trademarks or registered trademarks of Square Enix Co., Ltd. in the United States and/or other countries. iPhone, iPod and App Store are registered trademarks of Apple Corporation. All other trademarks are the property of their respective owners.