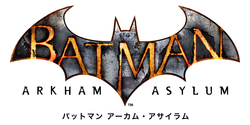 Tokyo, Japan, (Sept. 24, 2009) – Square Enix Co., Ltd. (Square Enix) today announced it will release Eidos Interactive's Batman: Arkham AsylumTM, developed by Rocksteady Studios under license by Warner Bros. Interactive Entertainment and DC Comics, for the PlayStation®3 Computer Entertainment System and the Xbox 360® video game and entertainment system from Microsoft in Japan this winter.
Upon its late-August release in North America and Europe, Batman: Arkham Asylum immediately garnered accolades from the media, including Game of the Month and Editor's Choice awards as well as a Metacritic* score over 90 as of Sept. 18, 2009, earning it the Guinness World Record for "Most Critically Acclaimed Super Hero Game Ever" in August 2009. The title has shipped over 2.5 million units and continues to enjoy strong sales as of September 21, the 4th week since its release.
Batman: Arkham Asylum is the first Eidos game released in Japan by Square Enix since the company joined the Square Enix Group in April 2009. Square Enix and Eidos are committed to developing and publishing games that utilize each company's individual strengths while working together to provide world-class content and services as a global entertainment group.
*About Metacritic
Metacritic is a website that collates reviews of entertainment products and calculates Metascores, weighted averages derived from various critic reviews.

About Batman: Arkham Asylum
Title: Batman: Arkham Asylum
Platform: PlayStation3, Xbox 360
Genre: Action Adventure
Release date: This winter
SRP: TBD
Player: 1
CERO Rating: TBD
"Batman: Arkham Asylum" Website

Feature
In Batman: Arkham Asylum, Batman finds himself trapped inside the confines of Gotham's psychiatric hospital for the criminally insane, Arkham Asylum. The Joker has set a trap for the Dark Knight and has conspired with the deranged inmates to eliminate Batman once and for all. Adding to the authenticity of the game are veteran animated Batman voice talents Mark Hamill and Kevin Conroy, who reprise their roles as The Joker and Batman respectively. Batman: Arkham Asylum features an original story by Paul Dini, Batman author and five-time Emmy Award winner whose credits include Lost season one and Batman: The Animated Series. Gamers will move in the shadows, instill fear amongst their enemies and confront The Joker and Gotham City's most notorious villains, including Harley Quinn, Bane, Killer Croc, Poison Ivy and Scarecrow, who have taken over the asylum.
About Warner Bros. Interactive Entertainment
Warner Bros. Interactive Entertainment, a division of Warner Bros. Home Entertainment Group, is a premier worldwide publisher, developer, licensor and distributor of entertainment content for the interactive space across all current and future platforms, including console, handheld and PC-based gaming for both internal and third party game titles.
About DC Comics
DC Comics, a Warner Bros. Entertainment Company, is the largest English-language publisher of comics in the world and home to such iconic characters as Superman, Batman, Wonder Woman and the Sandman. These DC Super Heroes and others have starred in comic books, movies, television series (both animated and live-action) and cyberspace, thrilling audiences of all ages for generations. DC Comics' Web site is located at
www.dccomics.com

BATMAN: ARKHAM ASYLUM Software © 2009 Eidos Interactive Ltd. Developed by Rocksteady Studios Ltd. Co-published by Eidos, Inc. and Warner Bros. Interactive Entertainment, a division of Warner Bros. Home Entertainment Inc. Rocksteady and the Rocksteady logo are trademarks of Rocksteady Studios Ltd. Eidos and the Eidos logo are trademarks of Eidos Interactive Ltd. All other trademarks and copyrights are the property of their respective owners. All rights reserved.
BATMAN and all characters, their distinctive likenesses, and related elements are trademarks of DC Comics © 2009. All Rights Reserved.
WBIE LOGO, WB SHIELD: ™ & © Warner Bros. Entertainment Inc.
(s09)
"PlayStation" is registered trademark of Sony Computer Entertainment Inc. Xbox and Xbox 360 are registered trademarks of Microsoft Corporation in Japan and/or other countries. All other trademarks are the property of their respective owners.